Membrane Switch
Durable and Responsive Membrane Switch.
25 Anti-ghost keys
This keyboard already have 25 anti-ghost keys taht prevents error from pushing 25 keys simultaneously.
Beautiful RGB backlighting
This keyboard already equipped with beautiful RGB backlighting that makes your gaming session more immersive.
Tenkeyless design
This Keyboard using Tenkeyless design for more space and comfort while playing games.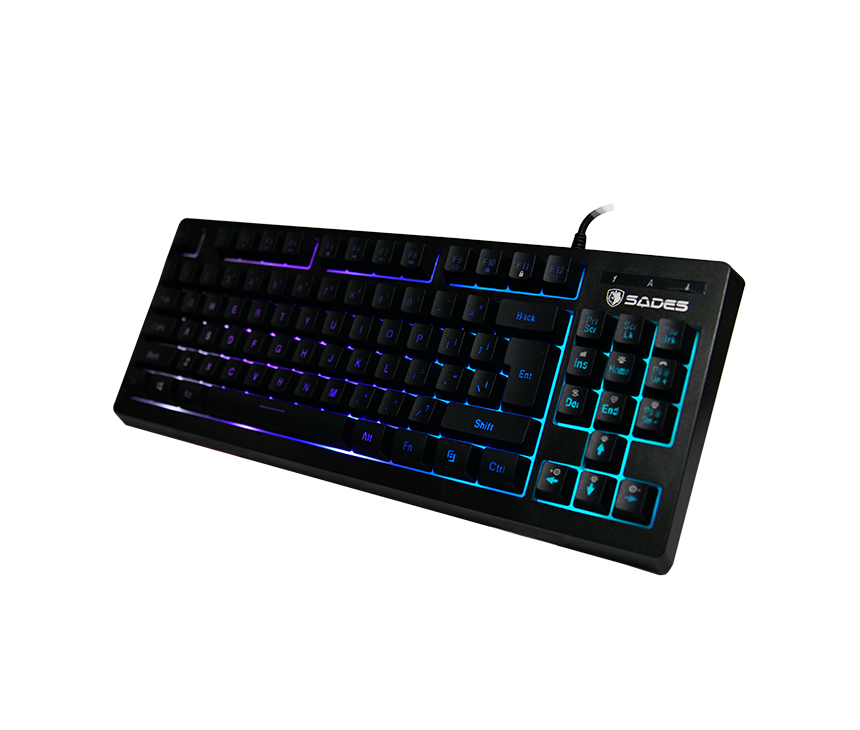 SPECIFICATION
Interface : USB Gold Plated Keyboard

Dimension : 372X151X37mm

Weight : 605g

Cable Length : 1.75m

Cable Type :

Braided Cord Key Quantity : 87 Keys

Actual Point : 1.9 + 0.4mm

Top Cover : ABS

Bottom Cover : ABS

Key Caps : Double Injection Key Caps

Power Consumption : 40mA-120mA
Backlight Effect
FN + Del : Wave / Running RGB LED Effect
FN + Insert : Rainbow LED Effect
FN + Home : 8 Colors Cycling Effect
FN + End : Breathing Effect
FN + Pg Down : Diffuse LED Effect
FN + Pg Up : Customization Mode
CUSTOMIZATION MODE
FN+ Page Up = Customization Mode The Pilot lamp shining when press again then press FN + 1/2/3/4/5 to switch 5 part with 7 colors cycling, after that press FN+Page Up again to save. (Power off the backlight effect will back to default-with LED)
FN + Up = Light Up
FN + Down = Light Down
FN+ Left / Right = LED Spreading/ Breating Speed (5 Levels)